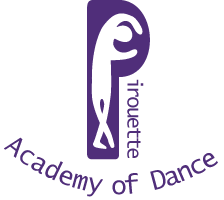 Founded in 1987 by Principal Jayne Wing, Pirouette Academy has produced many talented pupils who have gone on to careers in dance. Many of our past student's accolades are preforming on West End Stages, seeing the world dancing on cruise liners, touring as dancers and in teaching careers of their own. Our pupils are often offered places at some of the top-performing arts colleges and schools including Birds College, Laines, London Studio and Northern Contemporary.
3 years and upwards the opportunity for first class training in Ballet, Tap, Modern, Acro, National, Street and Musical Theatre.
Approved dance centre for ISTD offering DDE teaching qualifications.
We produce a spectacular and colourful show every two years and pupils can also choose to perform in local dance competitions, gaining stage experience and confidence. Pupils have been selected to appear in many professional shows and have reached the finals of I.S.T.D. Ballet Awards and the Janet Cram Awards with many receiving prizes!
Please call 07850084797 to arrange the best time to visit our school and have a look at our classes.
Principal
Our principal 'Miss Jayne' started dancing at the tender age of three years old at a local dance school in Leicester. Throughout her childhood Jayne gained respect and admiration from her teachers and fellow pupils for her dedication to performing arts and was extremely successful in both examinations and festivals.
At the age of twelve, Jayne was selected from thousands to perform in the original London Cast of Annie at the Victoria Palace Theatre; playing the part of Kate alongside Shelia Hancock as Miss Hannigan. Following this Jayne went on to perform in pantomimes and professional shows.
At 16 Jayne moved to the south coast to study dance teaching at Drusilla Duffill Theatre School in Sussex, whilst at college Jayne was awarded the student award for drama and was the only student to graduate with teaching qualifications in four dance genre.
In 1987 Jayne established Pirouette in Wigston has been the principal at this successful dance academy ever since. Jayne has maintained progressive training within dance and teaching methods, she is a fellow member of the Imperial Society of Teachers of Dancing in tap, modern and national and an examiner and committee member for the national faculty. Jayne is an approved tutor for the tap, modern and national faculties with the I.S.T.D. tutoring student teachers toward Diploma in Dance Education; for which Pirouette is a teacher training venue. Jayne also travels further afield to share her knowledge and is the regional representative for the I.S.T.D, East midlands area. Alongside her love of teaching Jayne is also an approved member of the British Federation of Music and Dance Festivals and All England Dance adjudicator with which she has judged both nationally and internationally.
ISTD Fellow and Examiner Imperial Ballet, Modern Theatre and Tap Faculties CDE ARAD
Mrs Gibson (formerly Houghton) has been teaching for over 50 years, both in her own school and as a freelance teacher. For many years she was Head of Ballet at the Pirouette Academy in Leicester and is still coaching senior students and DDE candidates here.
She was trained in Leicester by Marjorie Wise and in Nottingham by Sissie Smith. She stood on the committee for many years for the ISTD Imperial ballet faculty and after becoming an examiner for the ISTD in 1992 is now a senior examiner for vocational through to fellowship examination levels.
Jemma started at Pirouette as a child and then went on to further her dance training at the Northern School of Contemporary dance, Jemma completed her training at the Scottish School of Contemporary gaining 2:1 BA Hons. While in her final year Jemma gained a place as an apprentice dancer with Smallpetitklien Dance Company. While Jemma was with the company she got to perform professionally alongside the company throughout the Scotland.
Jemma has work with many choreographers such as Janis Claxton, Angus Balbernie, Vanessa Haska , Victoria Fox, Sarah Blanc and Peter Royston. Jemma has completed two UK tours with SSCD performing that The Space and The Riley Theatre to name a few.
Since graduating Jemma has taken part in many dance project including working/ performing with choreographer Aaron Jeffery within the Edinburgh Festival , Research dance project under the guidance of choreographer Hannah Seignior. Jemma was also part of the company Testingtherazor working on their project – Seven Deadly Sins.
Jemma has been a member of the teaching faculty now for a number of years having stepped back from performing to focus on her personal life and had her gorgeous daughter in 2019.
Emma started at Pirouette when it opened in 1987 and prior to this had been training at another local school since the age of 2.
On leaving school at sixteen, Emma completed a one year Musical Theatre course at Arts Ed, Chiswick, London. From there Emma moved onto a two year course at London College of Dance and Drama where she successfully graduated with a Dance Diploma in Tap, Modern, National and Ballet.
On leaving college Emma moved to East Grinsted where she taught for the well respected Kay Ball and then moved to Bedford and continued teaching for another few years. Emma then returned to Leicester where she taught at Pirouette through to 2007.
In 2007 our lovely Emma took a break from teaching where she took a change in career direction at the same time as building her family. Emma now has three beautiful children and although she is based in Milton Keynes and works for Izabelle Hammon (Calgel), Emma has furthered her teacher training and returned to Pirouette building her class schedule as our focussed singing teacher, musical theatre and Acro primarily but also teachers Ballet, Tap, Modern and National when the opportunity arises.
Miss Jessica joined Pirouette when she was two and a half and gained respect from the teachers and pupils alike for her hardwork and driven attitude. She represented Pirouette in dance festivals and competitions and gained much success and praise along the way!
Miss Jessica trained at the prestegious Laine Theatre Arts from 2008, where she was Head Girl in her final year. In 2011 she graduated from Laine Theatre Arts 2011 with a Trinity national diploma in dance.
Miss Jessica often returns to Pirouette Academy of Dance during her holidays to support and teach the Pirouette pupils and we always look forward to her coming back to see us.
Credits for Miss Jessica include:
2019 Stage 'Mimsie- Funny Girl' Theatre Marigny (Stephen Mear)
2019 Television 'All Star Musicals' ITV (Bill Dreamer)
2018 Stage 'Bebe/Ensemble- Kiss Me Kate' Crucible Theatre Sheffield (Paul Foster)
2018 Stage 'Elaine- Sweet Charity' Nottingham Playhouse (Bill Buckhurst & Alistair David)
2017 Stage 'Ensemble & cover Linda Lamont- Singing in the rain (Grand Palais, Paris (Robert Carsen & Stephen Mear)
2017 Stage 'Ensemble & cover Morticia- The Addams Family' UK Tour (Matthew White & Alistair David)
2016 Stage 'Ensemble & Understudy Anytime Annie- 42nd Street' Theatre Du Chatelet (Stephen Mear)
2016 Stage 'Ensemble- Thoroughly Modern Millie' Kilworth House Theatre (Stephen Mear)
2016 Stage 'Tregunta- Miss Atomic Bomb' The Other Palace (Adam Long & Bill Dreamer)
2016 Stage 'Ensemble & understudy Dora Dinsmore- Singing in the rain' Theatre Du Chatelet, Paris (Robert Carsen & Stephen Mear)
2015 Stage 'Ensemble- Mcqueen' Theatre Royal Haymarket (John Caird & Christopher Marney)
2015 Workshop 'Feelin' in the mood' Stanhope Productions (Chet Walker)
2015 Concert 'Featured Dancer- Follies in concert' Royal Albert Hall (Craig Revel Horwood & Andrew Wright)
2015 Concert 'Ensemble- Hey Old Friends' Theatre Royal, Drury Lane (Bill Dreamer)
2015 Television/Dancer 'Endeavour Series 3' Mammoth Screen (Sammy Murray)
2015 Stage 'Ensemble- Singing in the rain' Theatre du chatelet, Paris (Robert Carsen & Stephen Mear)
2014 Stage 'Ensemble- South Pacific' Kilworth House Theatre (Mitch Sebastian)
2013 Stage 'Cassandra & 1st Cover Bombalurina- Cats' UK Tour (Christine Cartwright)
2012 Stage 'Ensemble & 1st Cover Judy Haynes- White Christmas' Lowry Theatre, Manchester (David Morgan)
2012 Stage 'Iris- Mack & Mabel' Southwark Playhouse (Thomas Southerland & Lee Proud)
2012 Stage 'Betsy- Crazy for you' Novello Theatre (Timothy Sheader & Stephen Mear)
2011 Television 'Children in need- Crazy for you'
2011 Stage 'Betsy- Crazy for you' Regents Park Open Air Theatre (Timothy Sheader & Stephen Mear)
Katie Lawrence (DDE Tutor)
Katie has over 20 years experience in the dance education sector, teaching and entering students for ISTD exams both in college settings and in private dance schools. She also ran her own studio her own dance school in Bedfordshire for many years. Katie has taught across the wide variety of age groups and genres, and holds fellowship status in Tap Dance.
Katie is an established approved tutor for the DDE qualification, tutoring across the whole range of units, and is delighted to be working alongside the Pirouette team providing tuition for Unit 1 (Preparing for Safe Teaching Practice) and Unit 5 (Social, Emotional & Cognitive Development).
Katie is passionate about both dance and education, and endeavours to inspire new dance teachers to develop their zest for learning and teaching, both through the DDE qualification and into their careers beyond.
Poppy joined Pirouette as a pupil before she could walk as the daughter of the principal, Poppy is an inaugural member of the Pirouette family. Starting her dance training as a toddler in Tiny Tot mother and baby classes and then progressing into the main school from the age of two and a half.
Poppy was a successful member of the competition group, flourishing at festivals and gaining respect and recognition from both peers and adjudicators for her dedication and performance. Alongside festivals, Poppy was also successful as many external events, such as Scotland Summer School, Can You Dance and ISTD National, Ballet and Modern Awards International events. As a pupil at the school Poppy excelled in examinations and moved into higher education already holding advanced Examinations from the ISTD in Ballet, Modern, Tap, National and Greek. Poppy then took her training to the next level and has been successful in completing DDI qualifications in Ballet, Tap, Modern and National and her practical element of DDE qualifications for ballet and national for which she is continuing her training to gain her overall DDE qualifications.
In 2016 Poppy moved to Epsom to undertake a Diploma in Dance at the prestigious Laine Theatre Arts College where she graduated from in 2019.
Poppy is under The Dark Horse Agency and alongside teaching at Pirouette also has a working career in the industry.
Credits:
2019 Dance 'Ensemble- Funny Girl pre show workshop' (Stephen Mear)
2019 Stage 'Dancer- Thursford Christmas Spectacular' (John Cushing)
2018 Stage 'Cinderella's mother- Into the Woods' (Laine Theatre Arts, Tudor Davies)
Josh's love for dance sparked when he was 10 years old, when he enrolled in his first Acro class. Following his first show, dance became the centre of his life. At the age of 14, he was scouted for a fully funded scholarship to Studio 76 (now Liverpool Central Studios). At 15, when he realised that his love within the performing arts was teaching, he continued training at a full time dance college in Leicester. Josh is now tutored by Miss Jayne and studying his DDEs in 5 genres and is already gaining a huge popularity with the children from the schools he teaches at.
Rebecca started dancing at a very early age, and she soon realised her dream. At the young age of 16, Rebecca accepted a place at the Northern Ballet School in Manchester, where she trained for 3 years, graduating in 2013. She went on to work for Costa Cruises, and shortly after this landed a dream job at the world famous Moulin Rouge in Paris. Rebecca's other professional work includes Celebrity Cruises, Vegas Showgirls in Germany, Benidorm Palace and many galas as well as TV work.
After working professionally for 7 years, Rebecca has returned home to teach and pass on her experience to help others achieve their dancing goals.
Rebecca is a fully qualified Acrobatic Arts and Progressing Ballet Technique teacher, and is currently in the final stages of completing her ISTD DDEs in Ballet, Tap, and Modern with Miss Jayne at Pirouette.