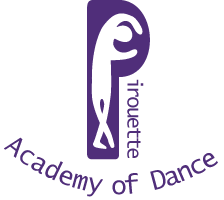 Past & Current Pupils
Gemma Stevenson
Gemma was one of Pirouettes first pupils!! Whilst at Pirouette she was a Janet Cram Modern Award Finalist and also gained her Advanced 2 Tap and Modern exams.
Gemma choose to train at Northern School of Contemporary Dance from 1999-2002 and went on to perform with their contemporary company 'Verve' from 2002-2003 in Britain and Europe. She also danced in Madrid with Aracaladanza Company.
Since giving up performing Gemma has now become a dance teacher at St Pauls Catholic School in Leicester.
Samantha Guest-Guinnee
Samantha has been a pupil at Pirouette since she was 3, she has always worked hard and enjoyed her lessons. Throughout her childhood, Samantha gained much success not only in her exams but also at festivals and competitions, being invited to perform in bursarys and gaining many medals and trophies. She also performed in a number of community productions and college performances.
Samantha was awarded 3rd place in the ISTD Ballet Awards, she also made the finals in 2012 and 2013 and gained a place in the finals at the Janet Cram 2012.
Samantha has chose to further her education at Tring Park School for the Performing Arts in full time training from the age of 16,  for  a Trinity Diploma from which she graduated with a distinction in July 2016.  During her time at Tring Park Samantha gained recognition for her dedication and was provided with some amazing performance opportunities to further develop her training.
Since Graduating Samantha has been working all over the world, experiencing some wonderful life experiences and performing on cruise ships.  Samantha has continued to be an active member of the Pirouette family since moving on into adult life and regularly comes in to visit, join in advanced level lessons, help at festivals and play music for examinations.  Unfortunately Samantha suffered an injury last year and after surgery has gradually regained her strength will be returning to performing soon.
Credits:
2018 Performer 'Ensemble & Cover Jan & Frenchy – Grease the musical' Independence of the Seas (Royal Caribbean)
2017 Performer 'Ensemble & Cover Frenchy- Grease the musical' Harmony of the Seas (Royal Caribbean)
2017 Film 'JUDWAA 2' Feature Film (David Dhawan)
2016 Dance 'Encore' Encore Dance Company (Layla Ellison, Jenna Lee, James Cousins, Antony Dowson)
2016 Dance 'Encounters' Pheonix Dance Theatre (Tring Park School)
2016 Dance 'Rosie Lowe- Strong Woman Music Video' (Nadia Marquard Otzen)
2014 Television 'Little Start up- Teen boys girlfriend' Sky TV (Chris Cottam)
2014 Dance 'Dance Foundation Charity Event' (Scott Miller)
2013 Film 'Avengers Age of Ultron' (Joss Wheldon)
2011 Stage 'Siam Child- The King and I' Curve Theatre (Paul Kerryson)
Tom Brown
Tom Brown joined Pirouette at the age of six.  During his training at Pirouette Tom gained much success in Examinations, Awards and Festivals.  In 2009 he left Pirouette to study at London Studio Centre for a degree in Theatre Dance.
On leaving London Studio Centre Tom has worked in many different venues, he performed at the UEFA Champions League final in 2011, lead role in a short film named 'Boy keeps Swinging', toured the world on P&O Oriana in 2012 & 2013 and is currently touring with Spirit of the Dance.
Also alongside Toms' performing work he started an online magazine called Stage Door Mag, which gives advise and inspiration to young performers by interviewing the biggest names in the West End including Lee Mead, Julie Atherton and the like.  Tom also works as a Freelance Web developer.
Rebecca Stokes
From joining Pirouette many years ago – my life today was set in motion! Who knew that by joining Jayne & her team it would lead to a fantastic 12 years aboard world class cruise liners! Jayne pushed me, gave me the discipline but also the dream that something else was out there!
Whilst performing on the seven seas not only did I visit the world, visiting beaches you would never believe existed to safari's in Africa….all of this whilst having a blast entertaining! Whilst onboard I met my husband who pulled me away to Australia…..worlds away but I could never look back and I have never been happier!
Jodie Watts
I first started dancing with Pirouette Academy at the age of three. My love for dance developed through Jayne's expert teaching, and at the age of sixteen I gained a place at Preston Dance College. After three years of professional dance training I went onto work for a west Cyprus cruise tour in Paphos. I then went onto work in Spain performing in variety shows in various hotels. I am currently performing with Louis Cruises on the Cristal cruise liner in the Mediterranean.
Jayne is a fantastic teacher, I would like to thank her and everyone at Pirouette for all their support and guidance.
Wishing you all the best in the future.
Samuel Robinson
Having joined Pirouette in 2001 at the tender age of 5, Sam was very much a part of the Pirouette family.  He was successful in examinations with the ISTD throughout his training at Pirouette and also distinguished himself at festivals winning cash prizes in bursary's and taking part in National competitions such as the Janet Cram Awards.  Sam attended Pirouettes own summer schools from a young age and also studied at The Dance Summer School hosted in Scotland for a number of summers.  Sam was a successful in gaining a place in Tap Attack Company 2013 and with them went on to be selected as a member of the UK Tap team, gaining a gold medal at the IDO Tap dance world championships 2014.  Sam attained advanced ISTD qualifications in Ballet, Tap, Modern, National and Greek; alongside DDI qualifications in Tap, Modern and National.  Moving on from Pirouette Sam gained a place at Bird College London.  Sam made a decision to have a change in career path and since leaving Bird College has managed to gain chef and management qualifications and currently is happy as a kitchen manager but continuing his training in the catering industry.  Sam is still a very active member of Pirouette, helping at shows and festivals and continues with a love of dance and singing.
Hayden Woodcock
Hayden joined Pirouette along with his two brothers in 2009.   During his time at Pirouette he excelled in all exams and competitions.  Hayden successfully completed advanced examinations in ISTD Ballet, Tap, Modern and National before moving on from Pirouette to continue his training at Bird College London, where he successfully graduated with a BA Hons in Professional Dance and Musical Theatre 2020.  During his time at Bird College London, Hayden was selected to perform in numerous pieces both under the college direction and external events.  He also successfully gained Winter season contracts and individual featured rolls.  Hayden continues to be an active member of the Pirouette maintaining contact, watching shows and helping and supporting events. Hayden is currently represented by Bird College agency and we look forward to hearing from Hayden and his bright and prospective future in the dance industry once current events subside.
Industry Credits:
2020  Television  'National Theatre Awards' (ITV)
2019  Dance  'Recollections' (Mark Smith)
2019 M/T 'How to succeed in business without really trying' (Bird College)
2019 M/T 'WARS' (Bird College)
2019 Featured Dancer 'Move it' (Josh Baker)
2019 M/T 'Lucky Stiff' (Bird College)
2019 Dance  'Journey' (Jack Evans – Bird College)
2018 Pantomime: 'Buttons' in 'Cinderella' (Paul Lavers) (Hartlepool)
2018 M/T 'Destinations' (Bird College)
2018 Featured Dancer 'Beautiful Thing (Bradley Hemmings & Robby Graham)
Elise Worrad
Elise joined Pirouette at the age of 12.  Elise stepped straight into the competition scene with Pirouette and having already previously studied ISTD syllabus successfully continued with her training, gaining advanced ISTD qualifications in Ballet, Greek, National, Modern and Tap.  Elise was successful in gaining a place with Tap attack in 2015.  Prior to moving on from Pirouette, Elise gained her DDI national and is continuing her teacher training qualifications working toward her DDE's in Modern and Tap.  Elise also continued her dance training on moving on from Pirouette and gained her degree in BA Hons in professional dance and musical theatre at Bird College London 2020.  Elise is currently signed under MAC & JEAL Agency and we look forward to seeing what the future has in store.
2019  Dance  'Recollections' (Mark Smith)
2019 Musical 'How to succeed in business without really trying' (Bird College)
2019 Dance 'Memory Lane' (Jack Evans)
2019 Musical 'Matron Mama Morton – Chicago' (Bird College)
2019 Television 'National Television Awards'
2018 Dance 'Destinations' (Bird College)
2018 Television- Dance 'Ant and Dec's Saturday Night Takeaway' (ITV)
Fern McCurdy
Fern started dancing at the age of 3 and joined Pirouette at the age of 7.  She was a wonderful member of the competition teams and performed in shows, presentations and festivals.  Fern completed her exams with Pirouette in ISTD up to advanced levels and also attended Pirouette summer schools as well as the residential summer schools in Scotland from the age of 12 to 16.  Fern moved on from Pirouette to attend Manchester Met University where she is currently working toward a BA Hons Fashion buying and merchandising and is due to graduate in 2021.  Whilst at University Fern is an active member of the University dance team and has competed with them; she continues to take weekly dance lessons and has a life long love of performing and dance.
Alice Mae Lee (Stage Name Alice Fray)
Alice joined Pirouette as a teenager, with previous dance tuition under her belt, she wanted to firm up her technique and build her core strength.  Alice was an active member of our festival team and performed in the schools shows and presentations.   Alice completed her training with Pirouette having gained advanced ISTD examinations in Ballet, tap, modern, national and greek.  Alice has successfully completed a BA hons degree in professional dance and musical theatre 2017-2020 at Bird College London and is currently represented by Brewis and Scott Associates.  Alice maintains supporting Pirouette coming to watch at festivals and shows and we wish her every success in the future.
Credits:
2019  Musical 'Campbell Davis- Bring it on' Doreen Bird Foundation Theatre (Ewan Jones, Clark James, Jordan Li-smith)
2019 Dance 'Dance Captain- WDO AHH' Doreen Bird Foundation Theatre (Tom Ashton)
2019 Stage 'WARS' Orchard Theatre (Luis De Abreu)
2019 Musical 'Annabel Glick- Lucky Stiff' Doreen Bird Foundation Theatre (Erica Lawrence, Steve Trill)
2019 Dance 'Move It' Excel (Josh Baker)
2019 Television 'National Television Awards' O2 Arena
2019 Dance 'Journey' Doreen Bird Foundation Theatre (Jack Evans)
2018 Stage 'Destinations' Orchard Theatre (Luis De Abreu)
Emily Bird (Stage Name Emily Rich)
Emily joined Pirouette at the age of 3 and had joined festival classes by the age of 5, thriving on performing and with an innate musicality that lit up the stage.  Throughout Emily's training at Pirouette she excelled in her ISTD examinations and went on to gain advanced qualifications in all genres as well as studying toward her DDI's and completing her National DDI in all aspects.  Emily took part in community productions as well as local college performances throughout school and whilst studying for her A levels  and also attended national competitions.  Emily successfully auditioned and became a member of Tap Attack where she trained in their associates team and performed in their annual galas.  On moving into higher education Emily successfully gained a place at Bird College London where she completed her BA hons in Dance & Musical Theatre this year.  Emily is under Bird College Agency and looks forward to an amazing career.
Emily maintains support with her Pirouette Family with regular get togethers with her friends, her mum is still a member of the adult tap classes and Emily generously offers her time and support for our festivals, during examinations and shows where and when possible.
Credits:
2019 Dance 'Ensemble- Woo-ahh' Cre8 (Thomas Ashton)
2019 Musical 'Dance Captain- Bring it On' Bird College (Ewan Jones)
2019 Stage 'Woman 1- Blush' Bird College (James Palm)
2019 Stage 'Ensemble- Chicago' Bird College (Anthony Whiteman)
2019 Stage 'Ensemble- Wars' Bird College (Luis De Abreu)
2019 Video 'Dancer- Hoofers- Bury a Friend' Hoofers (Jack Evans)
2018 Stage 'Ensemble- Destinations' Bird College (Luis De Abreu)